⚠️ New Feature - Limited Access. For more information, email us at support@rvvup.com
Disbursements
Disbursements refer to the transfer of payments made to a business by customers over a 24-hour period to the business's bank account.
You receive all Pay by Bank payments made to your business from your customers over a 24-hour period (minus any refunds you initiate, of course). These payments are then transferred in one payout to your bank account. This transfer is called a disbursement.
Disbursements appear in a business's bank account looking like they have been received from the business itself since Rvvup disburses payouts to the bank account tied to a business's legal name.
Note: Other names for this transfer are Settlement and/or Payout.

What is the frequency of these disbursements?
Your account balance will be disbursed each 24-hour cycle at Midnight UTC (this is the same time as Midnight GMT). Shortly after, the money will appear in your designated bank account.
The quality thing here is that Pay by Bank payments are on a disbursement schedule of 7 days a week, 365 days a year.

What would prevent me from getting a disbursement?
If your account balance is £0, the disbursement payout will be rolled over to the next 24-hour period, meaning that nothing will be issued until the balance in the account is positive.

How can I check my account balance?
At this time, there's no way to directly view your current balance. We hope to have this feature available soon, so please keep checking in.
For now, we suggest taking a look at your Orders from today in the Dashboard.
You can also reach out to us via email at support@rvvup.com for specific questions about fund movement.

How will this disbursement appear on my bank statement? / Why does the payout look like it came from me?
At first glance, seeing the disbursement hit your bank account marked with your business's name may be confusing. This is because Rvvup disburses your payout to your bank account using your business's legal name.
When we send a payout from your account, it appears in your bank account looking like it has been received from well… yourself! Which it has… As Rvvup sends it to the bank account tied to your business's legal name.


Sample Bank Statement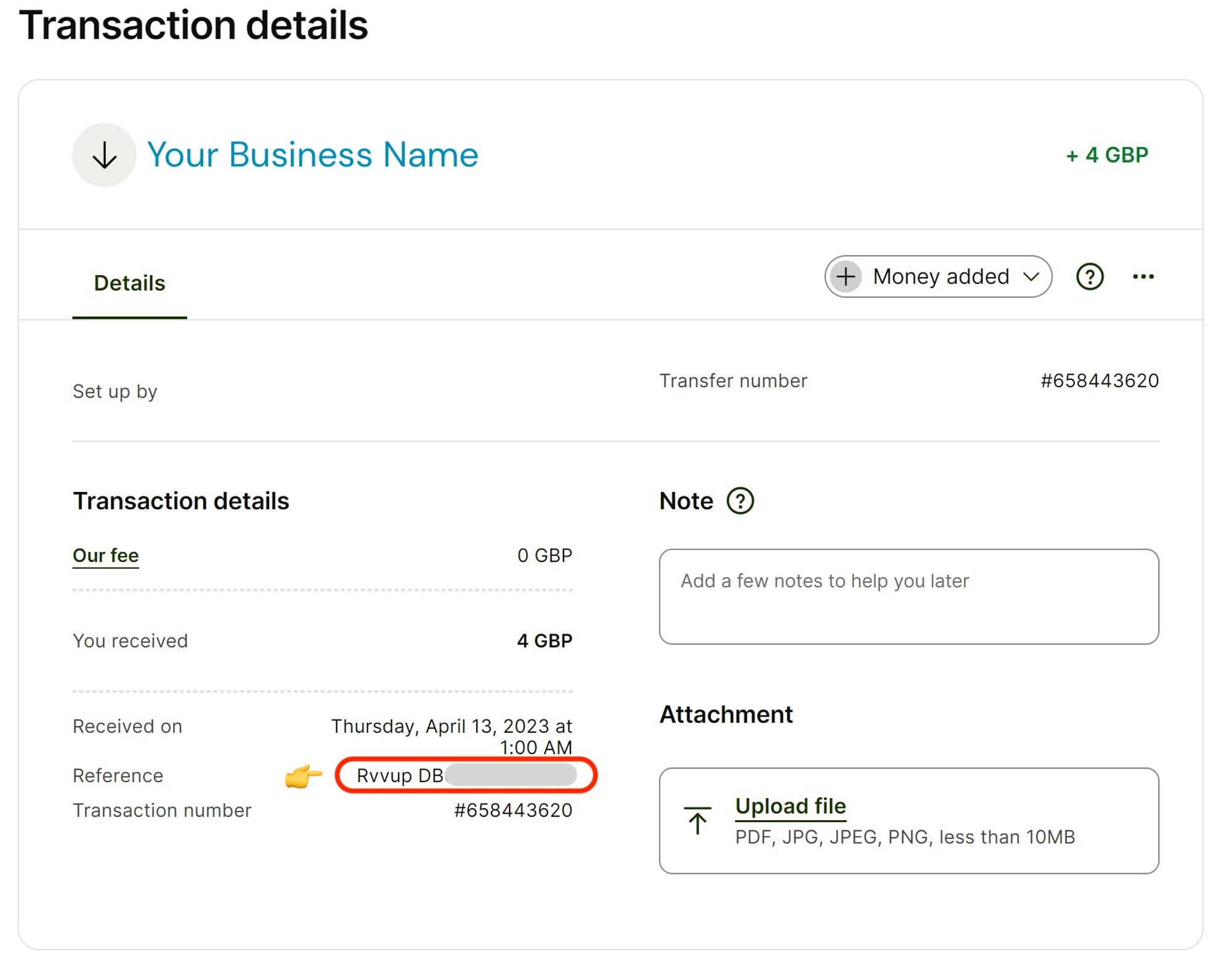 A disbursement from Rvvup will appear with the identifier:
Rvvup DB<unique_ID_number>



Note: While a transaction from Rvvup will have the prefix "DB" and can be sorted, the numerical characters displayed are internal properties to Rvvup.