Need to send a refund?
In the event that you need to issue a refund to a customer, you'll have a few options depending on the original payment method. Below you will find detailed guides on how to issue refunds and address common questions related to refund tracking & timelines
🔜 Issuing refunds directly in the Rvvup Dashboard is currently in development. 
Once launched, this page will be updated with additional information on how we've 
optimized the refund process. Stay tuned!

ℹ️ How to refund a Pay by Bank, Pay by Card, Clearpay, or PayPal transaction
You can issue refunds via your shopping cart provider. 
⚠️ Pay by Bank refunds are currently only available to merchants who are using Rvvup Payouts. 
WooCommerce
If you use WooCommerce, you can issue full or partial refunds from the "Orders" page:
Go to:

WooCommerce > Orders

.

Select the order to refund.

Go to the order summary, and select Refund to start.

Specify the

q

uantity of the product(s)

to be refunded in the text box(es) that appear for each line item. The refund amount will automatically adjust based on the products refunded. If inventory levels are not managed, you can also enter the Refund amount, without adjusting the product quantity.

If the quantities of items are not set when issuing a refund then the order is not marked as refunded and the email that is sent will say "partial refund."

Add refund notes

, if desired.

Press

Refund.
👀 Example of a partial refund in WooCommerce:

More information on issuing refunds via WooCommerce can be found in the WooCommerce Help Center.
Magento
If you use Magento 2, you can issue full or partial refunds from the "Orders" page:
Log in to your Magento 2 admin panel.
Click on Sales in the main menu, then select Orders.
Find the order for which you want to issue a refund and click on it to open it.
Select Invoices and then "View" on the one you'd like to refund. 
Click on the Credit Memo button in the top right corner.
Fill out the fields for the credit memo, including the reason for the refund and the amount to be refunded.
Click on the Refund button to issue the refund (selecting Refund Offline will only update Magento and not send funds back to your customer via Rvvup).
👀 Example of a partial refund in Magento: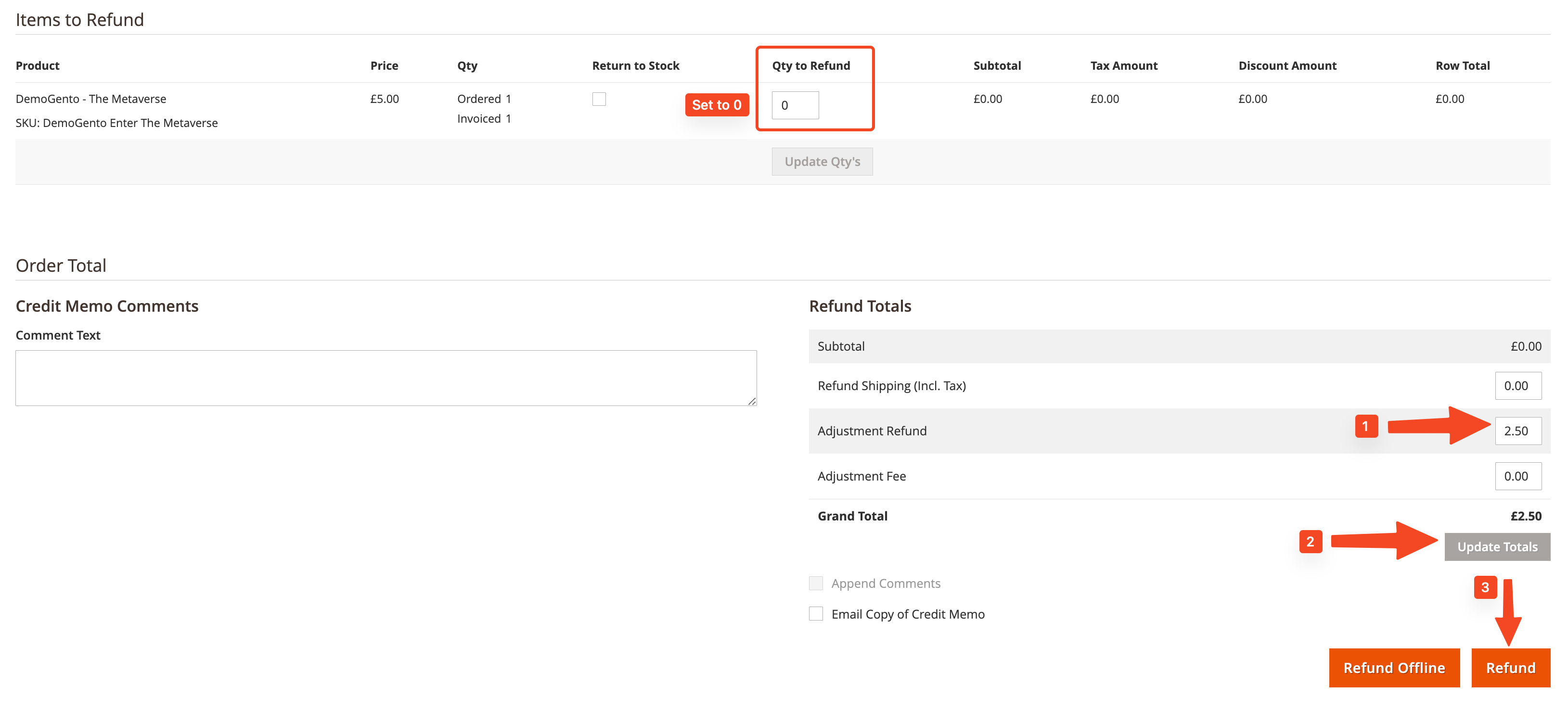 More information on issuing refunds via Magento can be found in the Adobe Commerce Help Center.
👀 Not using Rvvup Payouts yet? 
If you're are not yet using Rvvup Payouts, your Pay by Bank payments will go immediately into your bank account. Because of this instant transfer of funds from your customer's bank account to yours, the current workflow to reverse a Pay by Bank transaction can be conducted in a few manual ways:

1. Request your customer's bank details and transfer the owed refund amount to their bank account via your bank's transfer process.
2. Issue a refund in an alternate form of instant transfer like PayPal.
3. Offer to issue the refund via a mailed cheque.
⚠️ Pay by Link Refunds
Refunds are not currently supported for Pay by Link transactions. If a customer requests a refund from a Pay by Link transaction, you'll need to provide the return of funs outside of Rvvup (instant PayPal transfer, manual bank transfer, etc.)
Have more questions about refunds? Check out our Refund FAQs.