⚠️ New Feature - Limited Access. To activate, email us at support@rvvup.com
Ready for card payments via Rvvup?
Pay by Card is Rvvup's solution for accepting credit and debit card payments. To your customers, making payments via card is secure and familiar, which is why it's an attractive payment method to offer side-by-side with the newer generation of payment options like Pay by Bank.
Pay by Card provides a quick way to offer card payments without the need to install any additional plugins or maintain a separate order system. You'll be able to see credit card transactions right next to your other Rvvup payments!
See below to get acquainted with some of the general ins and outs of taking payments by card with Rvvup.
💳 Accepted Card types:
Coming Soon:
American Express
Discover / Diners
JCB
ℹ️ How to start accepting card payments via Pay by Card
If you are interested in accepting card payments via Rvvup, contact us at support@rvvup.com. Our team will help you get activated and answer any questions you have along the way.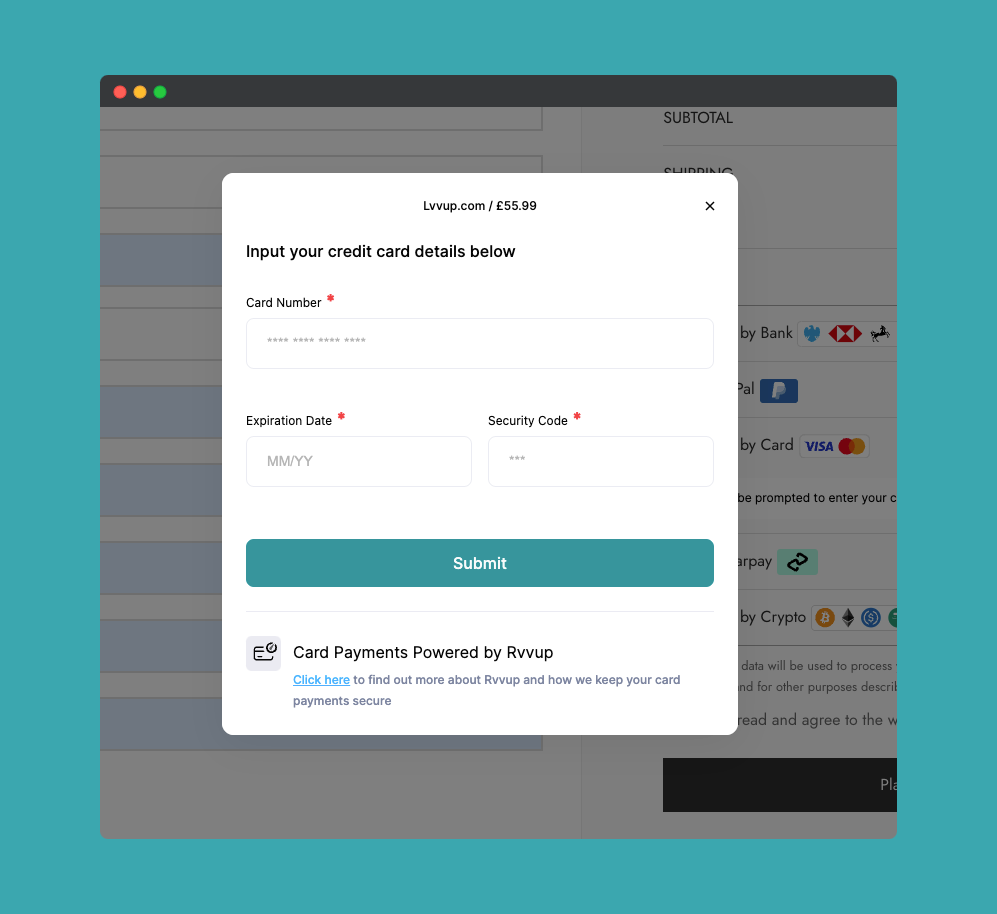 🧮 Pay by Card Fee information
Through our selected partner, Rvvup Pay by Card combines processing fees into a single blended rate. Fees will be subtracted from the funds received, meaning your payouts will be made with processing fees already deducted. This billing approach simplifies the fee structure, as you won't receive separate bills for the card fees.
Regional Fee information
Pay by Card payment fees, unless agreed otherwise, are based on the region of the transaction:
Domestic Consumer Card Transaction (UK Issued Card): 1.2% + £0.20
Non-consumer Card Domestic Transaction (Premium & Commercial UK Issued Cards): Domestic rate + 0.7%
EU Transactions (Cards issued within the EEA Region): Domestic rate + 1.2%
International Payments (Cards issued outside the EEA or UK) : Domestic rate + 2.05%
Refund fees (in all regions): £0.50
👀 Example:
Let's say you get a payment from your customer for £13.00 (with the standard 1.2% percentage fee plus the £0.20 fee).
Transaction Amount: £13.00

£0.15 (1.2% of £13)

+£0.20 (base fee)
-----------------

£0.35 fee total



Net Total: £12.65
In this case, Net means the transaction amount is disbursed to your bank account minus the fee total.
Once we've completed your onboarding for Rvvup's Pay by Card solution, you'll be ready to take credit and debit card payments immediately. If you previously processed cards through another provider, here is how to access and disable payment methods by plugin:
⚠️ Before disabling, it is recommended you consult with your previous card payments 
provider for their recommended way of disabling their services to learn how it 
affects refunds, subscriptions, and previously stored card information.
For WooCommerce
Log in to Wordpress
Select WooCommerce > Settings from the left menu
Click on Payments to view all payment methods
Flip the toggle to disable* any active card payment methods
For Magento
Log in to Adobe Commerce admin
Select Stores > Configuration > Sales > Payment Methods
Select the card payment method and change the Enabled drop down to No to disable*
*Disabling a payment method typically means it will stop showing up as an option in your checkout screen versus "deactivating" or "deleting" the plugin which completely removes the connection from your shopping cart platform.
🏁 That's it! Want to learn more about how funds move from your customer's card to your bank account? Check out our Pay by Card: Transaction Lifecycle article.