Pay by Bank is Ready on Day 1
Pay by Bank payments are enabled for both your live and test accounts as soon as your application has been approved by Rvvup, so no additional configuration is required (unless you would like to disable them in a given mode).
ℹ️ Modifying Pay by Bank
1. Log in to the Rvvup Dashboard
2. Select Payment Methods
3. On the Pay by Bank tile, you can use the toggle to disable Pay by Bank or drag and drop the cross-arrows to reorder your payment methods. Press Save when finished.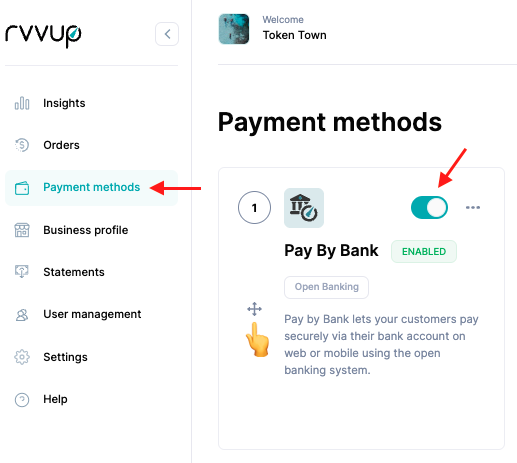 💬 Pay by Bank FAQs
What is Pay by Bank?
Pay by Bank payments allows your customers to make payments directly to your bank account from a payment UI from their bank account. These payments will be authenticated with their bank either via their mobile banking app or via their desktop browser.
Where does the money go?
Pay by Bank payments will settle into your bank account. The timeline of when they'll be desposited is determined by your usage of Rvvup Payouts. For more details, check out this article on Pay by Bank disbursements.


Which bank account does Rvvup use for disbursements?
The bank account Pay by Bank payments pay into is the bank account submitted with your Rvvup application. To learn how to view or update your bank account, check out Changing your bank account.
How can I refund a Pay by Bank transaction?
For information on refunds, visit Issuing a refund.
Which banks do you support?
Pay by Bank support is presently limited to banks in the 🇬🇧 United Kingdom, and for payments processed in £GBP.
The following banks are supported for Pay by Bank banking payments:
Barclays
HSBC
Lloyds
Natwest
Nationwide
Santander
Halifax
RBS
Bank Of Scotland
TSB
Bank Of Ireland (UK)
First Direct
Monzo
Revolut
Starling Bank
Wise
Allied Irish Banks UK

(excludes AIB Northern Ireland)

Virgin Money
Tide*

(may require additional customer setup to add a trusted recipient)

Cashplus Bank
Ulster Bank
Barclaycard
Chelsea Building Society
Tesco Bank
Coutts & Company
Cumberland Building Society
Yorkshire Building Society
Danske Bank
Mettle
Check back here often as we regularly update this list as new banks offer support for Pay by Bank.